Alison Cole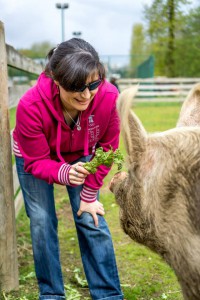 Alison is proud to be a member of the Animal Voices collective since November 2009, where she reunited with her radio broadcast roots to produce and co-host a show that speaks deeply to several of her passions: animal rights, veganism, education, and broadcast communications. Her evolution into developing her awareness of animal issues and compassion for all creatures started as a teenager, when she began asking questions and adopted a vegetarian lifestyle to live in congruency with her ethics. Always on a path of learning, she went vegan in 2006, and since 2011 has been exploring a high raw vegan lifestyle.
She enjoys participating in many facets of animal activism in her community, from attending demos to tabling for animal rights groups to social media advocacy, but is most committed and focused to providing quality programming on the Animal Voices show each week, and continuing to educate herself in these issues so that she can have the most up-to-date and accurate information to educate others.
A few of the most influential books she has ever read to help pave this path are "Slaughterhouse" by Gail Eisnitz, "Diet for a New America" by John Robbins, and "The World Peace Diet" by Will Tuttle – all must-reads for every human being, in her opinion!
Jen Dobell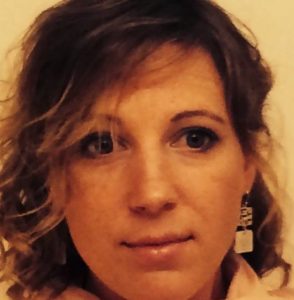 When not working as a Registered Massage Therapist, Jen lends her time and proceeds to multiple animal rights organizations. She is the personal assistant to filmmaker Gary Charbonneau (Evotion Films, "Vancouver Aquarium Uncovered") and Annelise Sorg (President of No Whales in Captivity).
Jen became vegan in 2015 after watching the documentary film "Earthlings". Creative and effective activism is Jen's forté; she has turned countless people onto a vegan lifestyle with her engaging personality and heartfelt discussions. Her favourite websites for soon-to-be vegans are "Vegan Sidekick" and "Mercy For Animals Undercover Investigations". Jen has a deep concern for the anthropogenic destruction of Mother Earth and its impact on humanity and thus, considers social/earth/animal activism to be our "rent" on this beautiful planet.
Prior to joining the Animal Voices team, Jen was interviewed on Animal Voices' 2015 Valentine's Day radio show regarding dating as a vegan activist.
Elyse Jacobson
Elyse has been co-hosting Animal Voices since September 2014 and producing since December 2015. A lifelong animal lover, she finally "made the connection" in 2010 after watching the documentary Earthlings, and committed to a vegan lifestyle. She is now a passionate advocate for animal liberation and regularly participates in activism in the Vancouver area. She is especially interested in evidence-based vegan nutrition, pro-intersectional vegan feminism, and all scientific findings related to animal behavior, sentience, and intelligence.
Elyse is a professional classical violinist and violin teacher, as well as an occasional lyricist, and she enjoys using these skills and the platform they provide to call attention to animal and human rights issues. In her spare time, she enjoys eating delicious vegan food, going to concerts and plays, travelling, reading articles online, and watching movies.
Caroline Carnerie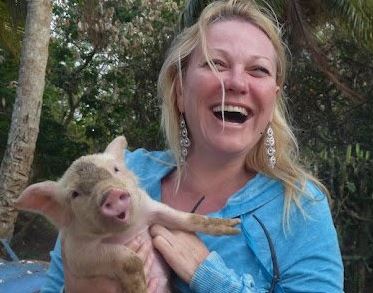 Caroline joined the Animal Voices team as a regular co-host in December 2015 and is thrilled to be working with a dedicated group of animal rights advocates. A 4H field trip to one of Ontario's largest slaughterhouses when she was 12 years old changed Caroline's life forever and propelled her on a life long evolving course of animal rights activism. That was 40 years ago. She knew that after bearing witness to the violent death of cows, pigs and chickens, she could not ever again be responsible for contributing to that life and brutal death for them. During her adolescence, she also undertook to regularly set off all of the leg hold traps placed within miles of her home in the country. A local trapper had once taken her along on his trapline route. And sadly, there were many to be sprung both on land and underwater. Veganism came a few years after when she came to understand the cruelty of the egg laying and dairy industries.
In law school, Caroline met people like her for the first time and started tabling, handing out pamphlets and speaking up for the animals whenever it was possible. She has been involved in a number of actions to disrupt circuses, pet store sale of live bred animals, aquariums and rodeos. More recently, Caroline has focused her efforts on encouraging and supporting new vegans in their efforts to transition to a plant based life. It is her goal to get every non-vegan she knows to watch
Earthlings
and for every vegetarian to watch
Sara's Life in 30 Seconds
, a Mercy for Animals video chronicling the life of a cow born into the dairy industry. And it is also her mission to have every vegan become an activist for the animals.
Outside of animal rights work, Caroline is deeply concerned with environmentalism and humanism and generally feels that issues of injustice, violence and disrespect are inextricably linked.